The usage of culverts is an important piece of the overall North American infrastructure, and similar to bridges, many have fallen into disrepair, or have become hydraulically outdated as changes in terrain and runoff conditions evolve over time. This can cause issues when it comes to continuity of structural adequacy and service life, and as a result, can cost billions in new construction and remediation projects as well as major interruptions to watersheds and traffic near bodies of water.
When new Culvert construction projects are deemed necessary to replace failing infrastructure, or for new applications, they continue to grow in scale and are comprised of 5 main types for applications including cross drainage and moving electrical cables. These culvert types are:
Pipe
Pipe Arch
Box
Arch
Bridge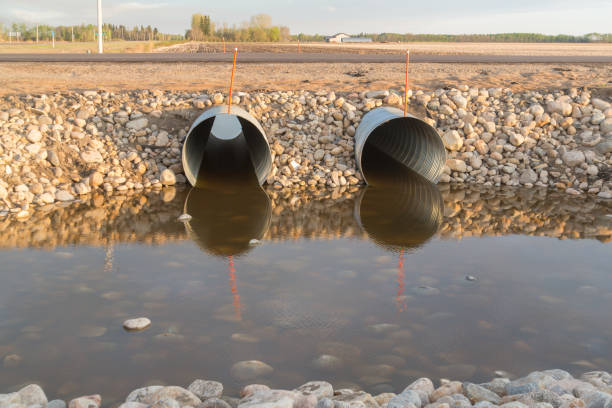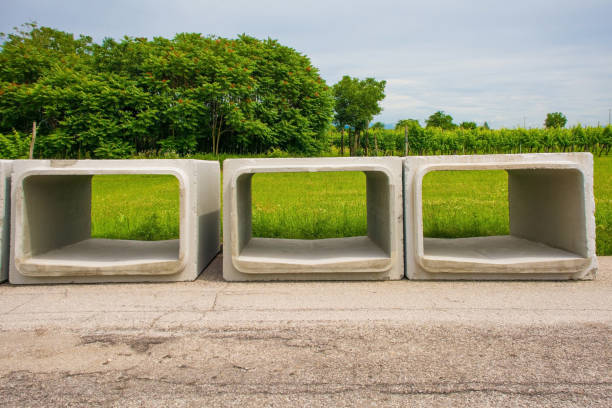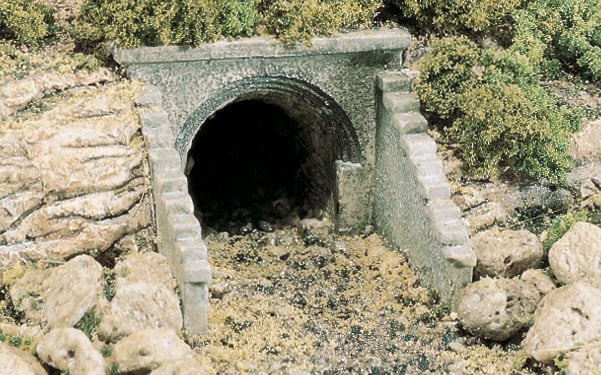 The specific type of culvert is usually based on the application, road height, and water surface elevation and can be made from materials such as concrete, steel, plastic, aluminum, and high-density polyethylene. For most construction applications, concrete is preferred, however, depending on the application the culvert would need to be reinforced to avoid collapse. Culvert locations are predominately under road or railways and are set according to usage and cost. This allows for the elimination of construction of separate embankments and with the correct gradient and culvert diameter, maximization of water flow. Culvert sizes can range from 12 to 144-inch diameters for round pipe designs and can span larger than 50 feet. The number of barrels used at a site-specific crossing is dependent on conveying as much water with as little headroom possible while adhering to the stream's cross-section and right of way. Usually, the largest concern is the regulatory requirements for wetlands, stream basins, and fish passage. These may include the culvert being designed to not interfere with the streambed by using an arch design that spans the body of water entirely rather than box or pipe designs that sit in the water.
In general, Pipe culverts are best for high water flow with varied flow amounts and are the most common. They can be stacked or used as a single pipe depending on the width of the channel. For applications with large, but sustained flow, Pipe Arch culverts offer a more aesthetic look to drainage projects and are more suitable for those areas that could have fish or sewage that would normally collect on a traditional pipe culvert. Box culverts are typically the choice for applications such as rainwater drainage and are non-functional during dry periods. Additionally, Box culverts are not suited to high volume based on their sharp-edged design that greatly limits water flow. Arch culverts, however, are specifically designed for narrow applications and an artificial floor must be used that is constructed of concrete. Full steel arch culverts can be used as well but are very expensive and see less usage overall as a result. Finally, Bridge culverts are purpose-built for roadway applications over canals and rivers where pavement is laid over the top of the culvert and a foundation is laid under the surface increasing strength and service life.
Culvert inspections largely are looped in with bridge inspections under the same jurisdiction but present a more complex set of inspection methods that go overlooked increasing the likelihood of delipidated or failing culverts passing inspection. The areas of concern that are required for a proper culvert inspection are:
End treatment
Slope protection
Undermining
Clogging
Traffic surface treatment
Condition of fill embankment
Durability of culvert material and coating
Realistic service life
The main differences between culvert and bridge inspections are the lack of distinction between the superstructure and the substructure and many culverts carry large amounts of soil burden while bridges do not. Another key area of difference is that culverts act as hydraulic conduits while simultaneously functioning as traffic load-bearing structures for vehicles and their overall performance is tied to the soil foundation material. Additionally, culverts are designed to function while being fully submerged and this creates higher inlet pressures requiring proper end treatment and slope stability whereas bridges for the most part are not designed to function in submerged conditions, Further, scour at the culvert entrances and along the entirety of their length are a major factor in their effective functionality long term. Some additional baseline measurements pertaining to culvert inspections are:
Culvert diameter
The angle of intersection with culvert and roadway
Culvert elevation
Roadway elevation
Width and type of roadway surface
Length of culvert
Type and configuration of end treatments
Buildup of debris
Culvert alignment changes
Characteristics of stream channel up and downstream
Type of drainage area (runoff characteristics of farm field or wooded terrain versus smooth surface)
Areas of concern in a physical assessment:
Corrosion- spalling of concrete or exposed rusting reinforcement steel
Abrasion- worn away invert from sediment
Coating loss- clear sign of deterioration of applied coating materials
Perforations- usually associated with metal culverts in which major metal loss can be detrimental
Cracks- usually seen in concrete culverts and specific attention needs to be made of size, frequency, and location
Joints- proper fit and alignment at each joint and any ill-fitting areas need to be addressed
Seams- proper alignment with plates meshed and indexed
Shape changes and deflection- location, length of the section, and severity
Undermining- end treatments, cut-off walls, headwalls, and slope collars should be checked for alignment, deterioration, and cracking.
Culvert construction and applications are based on many factors and proper inspections can ensure years of flawless service. To meet those needs, Aqua-Barrier has been producing the finest and most trusted cofferdams for over 25 years. Our cofferdam solutions are extremely mobile and can be used almost anywhere there is a need for effective dewatering, none more prevalent than in the case of a culvert construction or inspection project. These Aqua-Barriers can be deployed in hours and provide a safe, dry worksite in less time than traditional dewatering methods keeping your project on schedule and your crews safe. To learn more about the Aqua-Barrier water-inflated cofferdam, take a look at our spec sheets, and then give us a call. We look forward to helping you with your culvert construction or inspection projects soon!